Community
We Support the Communities We Are Privileged to Serve
We encourage our employees to get involved in the places where they live, work, and play, because helping the community matters. We are pleased to volunteer our time and provide resources to support the nonprofits that lift up the areas we serve.
Learn more about our community involvement below:
HomeFront
(NJ)
NJM volunteers serve lunch and coordinate activities at HomeFront's Camp Mercer, a summer program for children whose families are homeless or are in danger of losing their homes.
You can also find our volunteers in costume distributing treats at the annual Halloween 5K.
Ronald McDonald House Charities (RMHC)
(MD)
RMHC Maryland, the only Ronald McDonald House in the state, has provided a caring home-away-from-home for seriously ill and injured children and their families for over 40 years. In 2019, RMHC moved into an expanded facility with a community feel. Approximately 2,400 families are impacted annually through various programs and services, including the Big Hug Shuttle Bus. In the summer of 2022, our Corporate Giving Department had the opportunity to tour the House, visit program areas, and meet the staff.
NJM is proud to sponsor the organization's Annual HamburGala and donate to the House Meals Program.
Quilts That Care
(CT)
Since 2012, Quilts That Care in New Haven County, Connecticut, has provided more than 5,700 hand-made quilts to cancer patients – bringing hope and comfort at a time when it is needed most.
The nonprofit, founded and led by Deborah Van Steenbergen, distributes quilts through partnerships with 17 facilities devoted to cancer care. A dedicated group of more than 65 volunteers makes this work possible. NJM is pleased to be among the organization's supporters.
Fairfield Theatre Company
(CT)
NJM's Corporate Giving program supports a variety of arts & culture-related nonprofits within its service footprint. The Fairfield Theatre Company (FTC) in Connecticut is recognized as a premiere performing arts venue in the state with more than 200 annual events. The FTC also operates an Education Center and offers children's programming, including the Saturday Morning Kids Program, which provides free music lessons to underserved children.
Akron-Canton Regional Foodbank
(OH)
NJM is proud to support the Akron-Canton Regional Foodbank in Northeast Ohio. Founded in 1982, the Foodbank provides food and other essential items to thousands of individuals, including children and seniors, through its network of nearly 600 food pantries, hot meal sites, shelters, children and senior programs and other hunger-relief programs in eight counties. NJM has served as title sponsor of the organization's annual Selfless Elf 5K.
Ronald McDonald House Charities of the Philadelphia Region
NJM is a co-sponsor of the Adopt-A-Room initiative at Ronald McDonald House Charities of the Philadelphia Region, which provides comfort and hope to families with seriously ill children. In addition, NJM has donated tickets to professional sporting events, and employee groups have volunteered for the Meals-To-Go program for families staying at the House.
Trenton Area Soup Kitchen (TASK)
(NJ)
NJM employees serve lunch at TASK, a leading hunger prevention agency in Mercer County.
Junior Achievement
(NJ, PA)
NJM volunteers are involved in various JA of New Jersey and JA of Southeastern Pennsylvania hands-on learning experiences with elementary and high school students to foster entrepreneurship, career readiness, and money management skills.
Habitat for Humanity
(NJ)
NJM employees don hard hats and wear gloves to help build safe, affordable homes with Habitat for Humanity.
The American Heart Association and the American Cancer Society
NJM employees, retirees, family members, and friends participate annually in charity walks while helping to fundraise for the American Heart Association and the American Cancer Society.
Special Olympics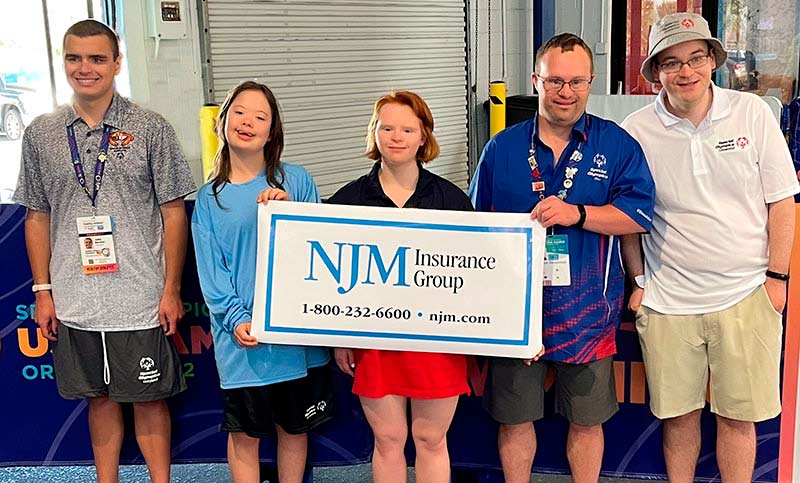 Pictured left to right: Jake Becker (Maryland), Nissi Bolash (Pennsylvania), Ireland Kosco (New Jersey), Arthur H. DeVennish (Ohio), and William Geanuracos (Connecticut).
USA Games Athlete Sponsorships (CT, MD, NJ, OH, PA)
NJM proudly supported five athletes from our region who participated at the 2022 Special Olympics USA Games in Orlando, FL. The sponsorships helped to defray travel, meal, and training camp expenses for athletes from Connecticut, Maryland, New Jersey, Ohio, and Pennsylvania who competed in a variety of swimming events.
Family Nights and Summer Games (NJ)
NJM holds Family Night outings at the Trenton Thunder and Somerset Patriots baseball stadiums helping raise funds for Special Olympics New Jersey (SONJ). NJM employees also volunteer at events, are coaches, and accompany SONJ athletes during the Parade of Athletes at the annual Summer Games Opening Ceremony.
NJ State Museum Natural History Hall
NJM is a major supporter of the New Jersey State Museum's "Written in the Rocks: Fossil Tales of New Jersey" exhibition, which looks back 3.5 billion years to explore the geology of New Jersey, and the progression of life, from the oldest fossils up through the Ice Age.
The Times-Kiwanis Camp Fund
(NJ)
NJM supports this Fund annually by donating $100 for every year of the 65 plus years it has been in existence. The Camp Fund helps pay tuition for deserving youth from the Greater Trenton Area to attend summer camp.
Manna Food Center
(MD)
We are pleased to support Manna Food Center, a centralized food distribution and nutrition education center in Montgomery County, Maryland. Founded in 1983, the organization supports approximately 45,000 clients annually with more than 5 million pounds of food and other support services, such as application assistance with the Federal S.N.A.P. (Supplemental Nutritional Assistance Program), cooking demonstrations, and nutritional and wellness workshops.
Our financial support has benefited Manna's Farm to Food Bank Program, which provides fresh produce from local farmers to clients, and the organization's Pop-Up Pantry, a mobile pantry which brings local food products to area schools and community groups.