NJM Insurance Group Provides $10K Sponsorship to Special Olympics USA Games Athletes
June 9, 2022
Funding supports swim athletes across five states
WEST TRENTON, NJ — NJM Insurance Group (NJM) is proud to support five athletes competing in the 2022 Special Olympics USA Games with a donation totaling $10,000. The sponsorship will help cover travel, meal, and training camp costs for athletes participating in this year's summer games in Orlando, Florida, June 5–12.
"The Special Olympics USA Games competitors are outstanding athletes who are dedicated to excellence," said Mitch Livingston, NJM President, and CEO. "Their commitment is inspirational and NJM is honored to help support them. Each athlete competing in the Games is already a winner."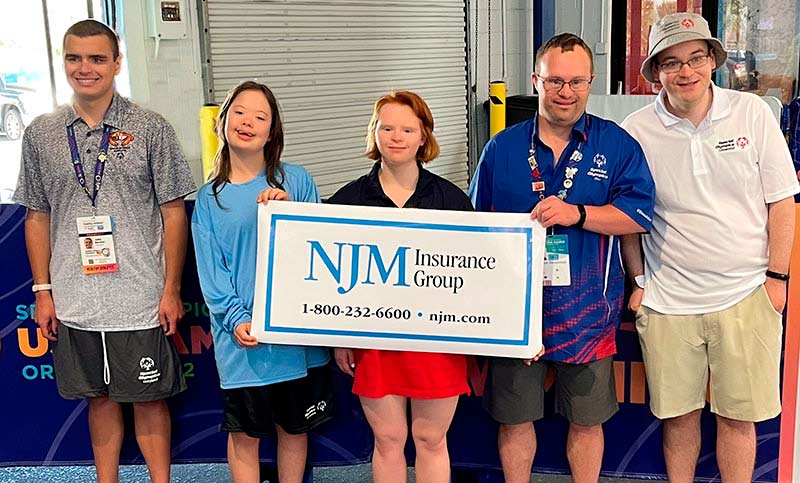 Pictured left to right: Jake Becker (Maryland), Nissi Bolash (Pennsylvania), Ireland Kosco (New Jersey), Arthur H. DeVennish (Ohio), and William Geanuracos (Connecticut).
The funding supports the following athletes representing states within NJM's regional footprint:
Team Connecticut – William (Will) Geanuracos
Team Maryland – Jake Becker
Team New Jersey – Ireland Kosco
Team Ohio – Arthur H. DeVennish
Team Pennsylvania – Nissi Bolash
"I am looking forward to competing along with my teammates in my favorite sport, swimming," said Ireland Kosco from Team New Jersey. "Swimming at Disney is like a dream, but I will work extra hard to make my dream of bringing home a Gold Medal come true."
The Special Olympics USA is expected to unite more than 5,500 athletes and coaches from all 50 states and the Caribbean at this year's Games.
"We are truly grateful for NJM's ongoing sponsorship of SONJ, and their newly expanded support of Special Olympics athletes in states across the Mid-Atlantic," said Heather Andersen, SONJ President, and CEO. "The athletes competing in the USA Games are remarkable on and off the field. We thank NJM for recognizing their dedication and perseverance."
Since 2009, NJM has provided support to Special Olympics New Jersey (SONJ). NJM also sponsored SONJ athlete, Chris Wines, and his family as he prepared to compete in the triathlon at the 2019 Special Olympics World Games in Abu Dhabi.
About NJM Insurance Group
Founded in 1913, NJM is among the Mid-Atlantic's region leading property and casualty insurers. One of the Company's core values is to support the communities it's privileged to serve, a value exercised through year-round employee volunteer efforts at local non-profits and a formal corporate giving program. NJM operates in a mutual fashion for the exclusive benefit of its policyholders and is consistently recognized for its award-winning customer service, superior claims handling procedures, and overall customer satisfaction. NJM's personal insurance products are available direct to consumers in Connecticut, Maryland, New Jersey, Ohio, and Pennsylvania. The Company also works with a preferred network of independent agents to deliver business insurance in Connecticut, Delaware, Maryland, New Jersey, New York, and Pennsylvania. Visit njm.com to learn more.